Un visor majo a un precio interesante.
AGS SWAT 8-32x56 MIL DOT SIDE FOCUS RIFLE SCOPE NEW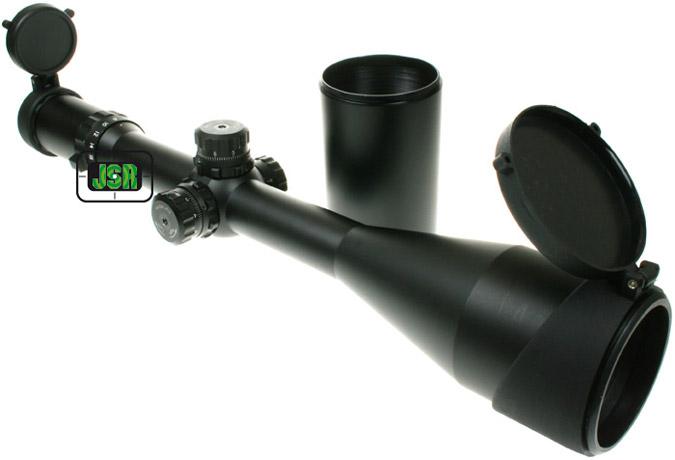 Item Description
AGS SWAT 8-32x56 MIL DOT SIDE FOCUS RIFLE SCOPE NEW

* Amazing value
AGS SWAT scope (made by Leapers)
- limited stocks at this amazing price!
* Tube Size: 30mm
* Weight: 740grams
* Length: 420mm
* Caution: Due to the length of this model it won't suit most brake barrel air rifles, on underlever models the scope may cover the loading port.
* Mounts: No mounts supplied.
* Reticle: Mil Dot Reticle.
* PX Adjustment: Side focus parrallax adjustable.
* Sidewheel: Large sidewheel available at extra cost.
* Minimum Focus: approx. 10 metres.
* Lens Covers Supplied: Flip Up Lens Covers.
* Turrets: External locking finger adjustable (lockable to prevent accidental adjustment).
* Sunshade: Supplied with scope.
* Flip up lens covers (Sold Separately):
Eyepiece Lens Order Size:4
Objective Lens Order Size:9 CLICK HERE to search our shop for these covers
* Scope Jacket (Sold Separately) Size:15 CLICK HERE to Search our shop for this scope jacket
* AGS Scopes are distributed in the UK by Webley, all models are designed with airgunners in mind.
Price: £129.99
En Ebay buscar la tienda
jsramsbottom
AGS-SWAT-8-32x56-MIL-DOT-SIDE-FOCUS-RIFLE-SCOPE-NEW_W0QQitemZ230439783160QQcmdZViewItemQQptZUK_SportingGoods_Hunting_ShootingSports_ET?hash=item35a7480af8